When we were already laying in the coffin, someone knocked, and everything started spinning again.

Friends, the Redboon team and our first game Knock of the coffin lid are in touch with you. Next month we will finish the story of all 3 heroes. In addition, the event system will change completely in the game. So players will be able to immerse themselves in the atmosphere of the game. We will be glad to see new and old players and decided to remember a little about how we came to this.
In 2020 our project dropped dead after losing half of the team and financial support. But we did our best to get up and run after Percival and Bjorn, taking part in a fight with orcs of finances, dwarves of deadlines and other monsters from real life. But who was never mistaken with a deck balance?
With a growl and grin of a beast we entered the overheated market of card games when everyone around told "This is a clone!". As an answer to this our team continued creating dozens of trophies, things, amulets and thousands of the plot symbols.
Of course we admit to ourselves that we have no experience, no successful projects, and no publisher and investors — but we do have a dream game! Unbelievable art in the setting of medieval fantasy that lets you deepen in the atmosphere, unobtrusive but attractive plot — that's all about Knock on The Coffin Lid.
We improve the game daily with endless love and belief in the project. We want to bring the KOTCL to its release no matter what. With the inspiring support of our little but proud community — thank you, everyone!
What is Knock on The Coffin Lid about?
The lands of Midian are inhabited by dwarves, orks, elves, people, and others. They are too different to come together in this little world. The struggle for territory and power is everywhere.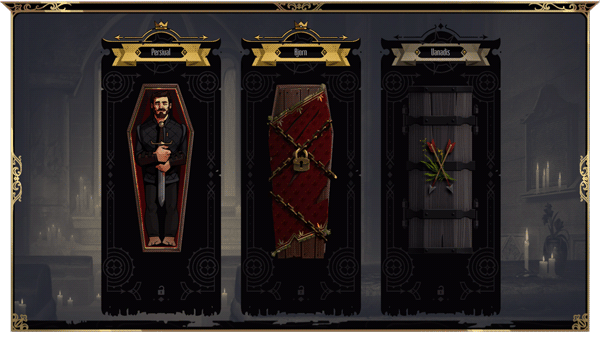 Having decided to clean it up or create more chaos, Lord Ingvar goes on a hike with his suite. But they all die right at the height of this adventure.
Time passes. Wind from the side of the Northern Gates reports about the arrival of Mortis. Finally, after the third Knock on the coffin lid, one of Ingvar's team rises from the dead. The hero wants to return home to find out what happened, why, and most important — who is to blame.
A Card Roguelike With an Atmosphere
You will need to collect decks, remove and improve cards, plan a strategy and act out cards according to the plot. Except for the cards, armor, weapons, potions, amulets, and trophies are available. Like cards, they influence the success of each race and add more fun!
There's no time to relax. Death is always death but afterward, another thrilling game begins.
Does it frighten you? We're frightened, too! But we spent the last six months working for you to be able to deepen in the game smoothly and master during the first battles.
KOTCL consists of more than 60 various events that can be useful to your character or complicate the game — everything depends on you.
This is what's waiting for people who stepped on the lands of Midian:
12 bosses;
Two super bosses;
Four biomes with unique inhabitants and conflicts;
more than 150 cards to build a map;
more than 50 ordinary and 20 elite opponents;
more than six sets of objects to make your character more powerful.
Let's Play A Card Game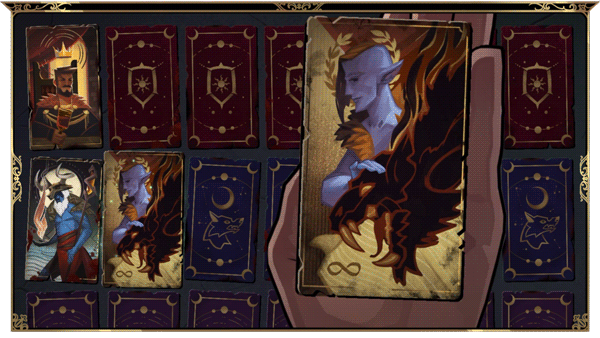 We are already at early access in Steam. You can also find feedback, critics, pain, and hate there. So join us and have a walk along the lands inhabited by different creatures. If you want to share your impressions with us, let's discuss them in our Discord. We always check the opinion of our community and listen to advise.
Add this game to your wish list — this will warm our hearts.