FIFA is one of the best sports video games in the world. Many consider it to be the top in its game. There isn't any other better football game out there. Many developers did try to create similar games, but all of them failed. If you are currently playing FIFA, continue reading our guide, as we will talk about sites that can help FIFA players.

If you've been playing any game from the FIFA series, you already know how difficult things can get at times. The game is much more than just pressing buttons to kick the ball. It would be best if you learned proper tricks, utilized your in-game currency, and much more. Thankfully, there are different websites out there that can help you in multiple ways.
FIFA Fandom
The first website we would like to mention is FIFA Fandom (https://fifa.fandom.com/wiki/FIFA_Football_Gaming_wiki). This website is the Wikipedia of FIFA, as it contains a lot of information regarding the entire series. The best part is that the layout of the site is well-designed, so you will be able to navigate the site easily.
FIFA Fandom contains information about every FIFA game. It doesn't matter whether you are looking for information about FIFA 16 or FIFA 21; it has information about them all. You can click on the "Games" option in the top menu and select whichever game you want to view. If you open the page for FIFA 21, you will notice that the site has all of the information presented on a single static page.
Overall, FIFA Fandom is a great site for those who want to learn more about the FIFA series.
Skycoach
Skycoach (https://skycoach.gg/) is yet another site that should be used if you're an avid FIFA player. However, unlike the two other websites that we have mentioned in our list, this one is pretty different. Instead of providing information related to the game, this website focuses on giving services.
Skycoach is one of the best websites when it comes to offering services and boosts. If you visit their site, you will notice that they deal in a great number of games, including FIFA. In addition, they have multiple services available for players of the football franchise, and the best part is that their rates aren't that much as well.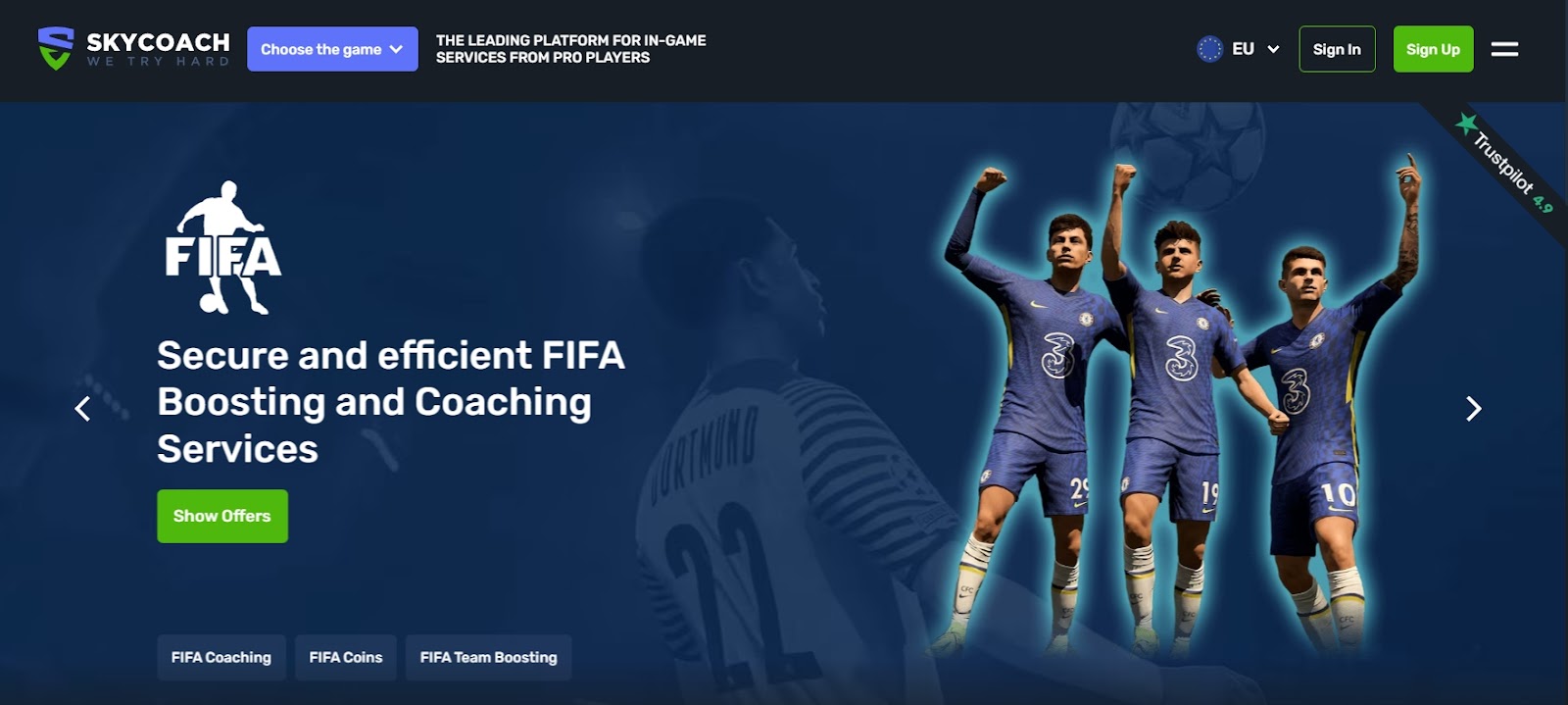 To begin with, Skycoach has a service called FIFA Coins. As the name suggests, you can use this service to quickly get rich in the game and purchase stuff that can help you progress smoothly. You will get a minimum of 50,000 FIFA coins through the service, and you can get up to 1 million coins. However, keep in mind that the higher the amount of coins is, the higher the price is going to be. The best part is that you can be on any platform, PC, PS, or Xbox, and Skycoach will get the coins for you.
If you're currently struggling in the game, Skycoach has something for you as well. They have a service called FIFA Coaching, and you can train with professional players using this service. The duration of the session will depend on the kind of package you get, but the minimum you get is 1 hour. So if you want to become one of the best FIFA players, you can use this service to play alongside professional players and learn from them. They will do everything in their power to improve your skills during the session.
Overall, Skycoach is amazing when it comes to offering services. If you are currently struggling in the game, make sure you check their site out, as you will find different services that can aid you in multiple situations.
Liquidpedia
The final site on our site is meant for those who are involved in eSports. There are two types of FIFA players; those who play the game and those who keep track of its eSports side as well. As for Liquidpedia (https://liquipedia.net/fifa/), it has for the former group.
Now, while Liquidpedia focuses on multiple sites, it has a dedicated section for FIFA. In this section, you can find information related to every major FIFA tournament and event. In fact, you will even find a list of upcoming matches so that you can schedule your time accordingly.
Overall, if you are a big fan of the eSports side of FIFA, you must get familiar with this site. It will help you stay updated with everything, and you won't miss out on anything.
Conclusion
These are three of the best sites that you need to visit if you are a fan of FIFA. All three of them can help you out greatly. If you want to get familiar with the series, get some help from professional players, or keep yourself updated on the eSports side, our list contains a site for everything.